In The Shadow of The Mountain is an amazing southern rock/blues rock playlist released by The Wentzel Brothers Band. The album draws strongly from the band's most prevalent influences in the genres of southern rock, rock 'n' roll, blues, folk, reggae, and country. The album includes 11 tracks of the Wentzel Brothers' best work. 
Tracks: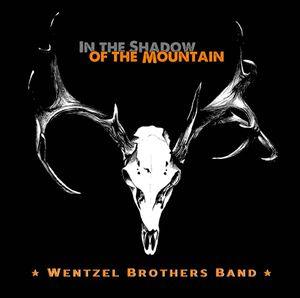 Track 1- 69 Chevelle 
Track 2- Do It Again 
Track 3- Chuck Terry 
Track 4- In the Shadow of the Mountain 
Track 5- Wrong Places 
Track 6- We Ain't Through 
Track 7- Broken Trust 
Track 8- No Time 
Track 9- Hell Train 
Track 10- No Turning Back 
Track 11- Bullfrog (hidden track) 
The Process of Making the Album 
In the Shadow of the Mountain was mainly put together as a follow up to The Wentzel Brothers Band's first blues rock playlist Flatcreek Road. The band was happy with their first album, however they knew with their ever-growing skill and experience that their next effort was going to be significantly better. 
Knowing Your Role 
The material on this album really showcases the bands abilities to play classic rock in a whole new way. Issac Wentzel's lead guitar work, unwavering ability to write excellent vocal melody and excellent lead vocal performances are evident in every track. Ivan Wentzel's consistent and always maturing songwriting and arrangement skills are a major part of the focused and experienced sound of each song. Not to mention, a very solid and musical drumming style combined with contributing more backup vocals than ever before. Jacob Newcomb is able to connect the band as a bassist and really add an entire new dynamic to the rhythm section with his locked-in, composed, and unique style. Joshua Terry's rock solid rhythm guitar work and excellent vocal harmonies make him an essential member that any band would be proud to call part of the team. As each member's roll became more clear, the process of writing and arranging songs became easier. Being that the band had more time and energy to spend on songwriting with a more efficient process, they were able to add more complexity, meaning, and substance to their work. 
Learning More Every Time 
When this band got together to write music, they always wanted to write music that was similar to the old classic rock that they listened to growing up. Ivan sat in with the mixer for the first album  Flatcreek Road and picked up how to put arrangements together, and how to compose lyrics. Ivan started using these skills to try to compose a song, and came up with the early ideas for "Do It Again" and took it to the band, and it was a success with the bandmates. With this in his mind, Ivan started working on "No Time" and Jacob hopped in to help him with the lyrics.   The process of making "No Time" took a couple of weeks to finish and changed to what you hear today with a Texas-style shuffle and  a drop off that was inspired by Pink Floyd's classic rock staple "Money". Ivan had a family member steal from him and he decided to write a song about it which is called "Broken Trust".