- Fan Article of Will Meacham 
To start this we need to go to the beginning of my relation to the Wentzel brothers. I first met the boys in elementary school and that was the beginning of two great friendships that are likely to last a lifetime. I would ride on the bus everyday with either Ivan or Issac and every year the bus driver would assign me to sit with one of them. I would come over to their house and play games or go run in the woods. I remember the drumset downstairs that if we touched it would make mom mad. Their family would always treat me like I was part of it. They fed me good and I always had fun. I remember Ivan's epic 16th birthday party where we shot guns and destroyed a tv. It was a super good time. I won't forget the  many days I have spent at their house.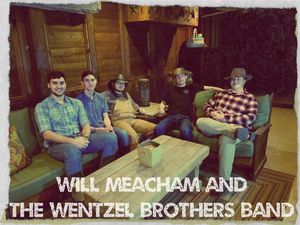 Being good friends with Ivan, he always loved to listen to bands like Pink Floyd and Led Zeppelin. When he hurt his back I didn't see him for months and I missed him. Before he got hurt we lost a very close friend to Ivan. It was very hard to get through. I knew that Ivan and a lot of other people needed help with the situation. I was there for Ivan and I truly believe that helped me and him become closer friends. Music was an escape for Ivan and he showed me a lot of what he listened to which was good classic southern rock. 
During Ivan's senior year he asked me if I wanted to help him in the talent show, which ended up being one of the best bands in concert the school has ever had.  I decided I would help as much as I could with either equipment or other things. I helped them by singing "Hotel California" and "Simple Man". We started to play "Wish You Were Here" but the teachers told us to stop. The judges gave us twenty dollars for winning the talent show and all the money went to the band. It was a memory that I won't ever forget. When Ivan graduated we didn't see each other as much but when we did it was a lot of fun. 
I knew Jacob Newcomb from my sister in the marching band. We had talked a few times and when I saw him in the band I knew he was a great addition and had the dedication to go far. 
I knew Joshua Terry from Boy Scouts and we always got along great. I helped him and he helped me and I was so happy when he got his Eagle Scout. He joined the band and was a great rhythm guitarist from the start and I was happy to see him a part of it. 
I always tried to keep track of the band and later i saw that Issac had joined and Joshua Terry. It was a jolly good band. They had great songs and I remember loving "What Was I Thinking" as soon as I heard it. 
I am so glad that these boys have made it so far and I am excited to see how far they go with this classic southern rock. The music they produce is amazing and I support them all the way because they are one of the best bands in concert. Shoot for the moon and even if you miss, you will be a star. 
Will Meacham - Fan of The Wentzel Brothers Band Chapel Hill